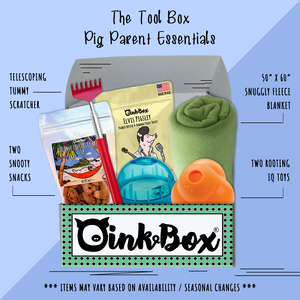 The Tool Box
Regular price
$45.00
Sale price
$50.00
No commitment, no plans but all the piggy pampering! The toolbox is packed with pig parent essentials. It has 2 treats, 2 toys, a snuggly fleece blanket, a tummy scratcher and info pamphlet.
Tell us about your piggy and any special requests in the customer order notes.
Get ready to pamper your piggy!
P.S this box makes a great gift!
---
More from this collection