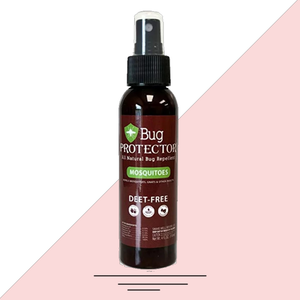 DEET FREE Bug Spray
Regular price
$7.99
$0.00
Derived from nature with ingredients like geranium, lemongrass, and cinnamon, our products are responsibly crafted to deliver real results.
Formulated to repel mosquitoes, gnats, and other biting insects, this natural spray has a pleasant scent and is non-greasy. 
​
Plant-based goodness.
Made with essential oils and plant-derived ingredients.
Made without preservatives, synthetics, petroleum, parabens, alcohol, phthalates and dyes.
Active ingredients: Lemongrass oil (0.50%), geranium oil (0.15%), peppermint oil (0.10%), cinnamon oil (0.05%)

Inert ingredients: Water, glycerin, castor oil, soya lecithin, sorbitol, vanillin, gum arabic, xanthan gum, Vitamin E, citric acid (totaling 99.2%)
Mosquito Formula: The four essential oils that make up our special blend are harvested from plants and are effective in repelling insects naturally. Other natural repellents include vanilla or citronella — ours includes vanillin, a pure, raw ingredient that when blended with essential oils is proven to improve the effectiveness and protection time of repellents.
Lemongrass Oil
Lemongrass oil (cymbopogon flexuosus) is obtained from the plant cymbopogon citratus, native to the Philippines, and is known for its insecticidal properties. Lemongrass oil is especially effective against mosquitoes and ants. It is safe and has no known negative environmental effects.
Geranium Oil
Geranium oil (pelargonium graveolens) contains citronellol and geraniol. Due to these compounds, this oil plays a helpful role as an insect repellent.
Peppermint Oil
Peppermint oil (mentha piperita) comes from the peppermint plant, a cross between water mint and spearmint, and is commonly found in Europe and North America. It is one of the oldest oils with a very wide variety of uses, which includes aiding in the repelling of mosquitoes.
Cinnamon Oil
Cinnamon oil (cinnamomum verum) is usually found in the bark or leaves of trees in the Lauraceae family, and is one of the most effective natural mosquito repellents known. 
---
More from this collection