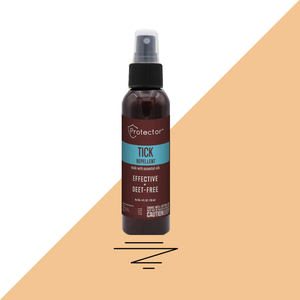 DEET FREE Tick Spray
Regular price
$7.99
$0.00
Derived from nature with ingredients like geranium, lemongrass, and cinnamon, our products are responsibly crafted to deliver real results.
Specifically formulated to repel the dog and deer (black legged) tick. The botanical mix of ingredients in this spray include a blend of Geraniol and Cedarwood essential oil. It's perfect for use when walking local trails or having a picnic near a wooded area.
Plant-based goodness.
Made with essential oils and plant-derived ingredients.
Made without preservatives, synthetics, petroleum, parabens, alcohol, phthalates and dyes.
Geraniol, Cedarwood Oil
Water, Castor Oil, Glycerin, Vanillin, Sorbitol, Gum Arabic, Soya Lecithins,
Xanthum Gum, Vitamin E, Citric Acid
Helpful Tip: Ticks can't fly or jump and are commonly found clinging onto tall grass 18-24 inches off the ground. Wear long-sleeve and long-leg clothing when venturing through wooded and grassy areas and be sure to spray repellent on your whole body – especially around your knees and ankles.
---
More from this collection