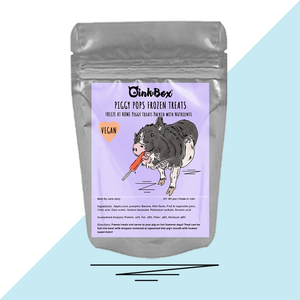 Vegan Piggy Pops
Regular price
$9.00
Sale price
$12.00
These delicious vegan frozen treats are packed with Antioxidants. 
All OinkBox pig treats are made of clean, simple ingredients and thoughtfully formulated to cater to your pig pal's nutritional needs. 

DIRECTIONS: Place bag in freezer. Take one frozen pop out and either hand feed your pig from tube, or break up and place in food bowl or in yard to root for. Frozen treat can also be placed in a treat ball without the wrapper, with supervision.
INGREDIENTS: Apple juice, pumpkin, banana, mint flavor, fruit & vegetable juice, citric acid, gum arabic, sodium benzoate, potassium sorbate, benzoic acid
SIZE: 5-oz bag

---
More from this collection